Industry News
With the accelerated introduction of liquid cooling, Envicool 200kW full-chain liquid cooling in single cabinet solution has been applied in batches commercially!
08-22, 2022
As the world's requirements for environmental protection and energy conservation gradually increase, the reduction of the PUE of data centers has become a key point. Liquid cooling technology will usher in a new stage of development.
Envicool new liquid cooling solution adopts end-to-end full-chain independent technology, which is highly efficient and energy-saving, it can fully meet the high heat density cooling requirements of servers and realize one-stop service, making large-scale application a reality. Nowadays, it has been applied in batches in a single cabinet with 200kW cooling capacity. The cold plate solution broke the record with the highest thermal density and was commercialized in ultra-high computing power scenarios.
The full chain liquid cooling solution can be divided into cold plate and immersion type.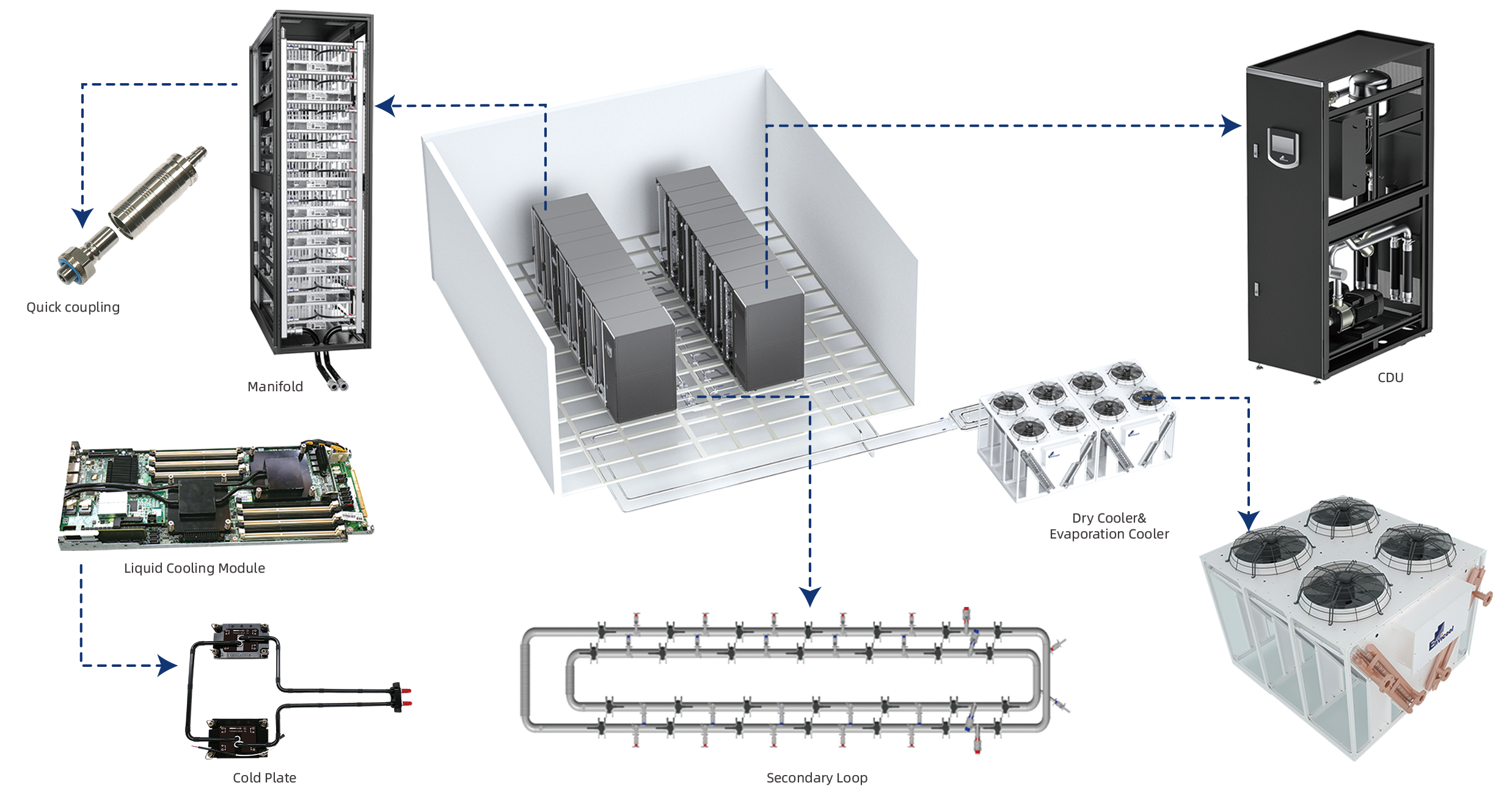 The Full-chain Solution Of Cold Plate Liquid Cooling
The full-chain solution of cold plate liquid cooling has high reliability and integrates the modules includes automatic liquid filling device, leakage detection component, anti-condensation control logic, etc. Key components such as water pumps and filters can be maintained online. It can be applied in centralized and distributed liquid cooling system, and the output cooling capacity can be adjusted automatically according to the change of terminal load.
As a new cooling technology, immersion liquid cooling technology uses liquid instead of air as cooling medium. The advantages of efficient heat transfer and reduced energy consumption owe to its signature feature of direct contact between the cooling liquid and the heating source . According to whether the liquid has phase change in the process of heat transfer, it can be divided into phase change immersion liquid cooling and single phase immersion liquid cooling.
In today's explosive growth of data computing power , data centers, as the "brain" of emerging technologies such as AI and cloud computing, are facing unprecedented thermal challenges. Under this background, the liquid-cooled data center emerged as the times require, using liquid-cooled servers and other equipment to dissipate heat from the server chip side, greatly improving the heat dissipation capability of the equipment. Liquid-cooled data centers can be configured with more servers in a unit space, improving computing efficiency with the advantages of energy saving and noise reduction. The utilization of waste heat can also create huge economic value.
Envicool highly concerns about the technical trends in the process of serving customers, continuously accumulates technical achievements, and successfully launches the full-chain liquid cooling solution. Envicool is building a closed-loop system in the four dimensions of R&D, production, delivery, and after-sales to achieve zero risks. In the future, Envicool will continue to devote itself to meeting the high efficiency and low PUE requirements of data centers, promote the "dual carbon action" in the field of data center construction, and help developing the new technologies in the industry.