Industry News
Industrial Cooling From Envicool
08-05, 2022
Affected by the La Niña phenomenon, this summer is particularly hot, which will not only causes discomfort for personnel, but also "discomfort" for factory equipment. High temperatures increase the risk of equipment failure during production, thereby reducing production efficiency and jeopardizing production safety.
Selecting suitable thermal control systems to dissipate heat and dehumidify for the equipment, thus a good production environment and production capacity can be ensured.
With its solid technological innovation, excellent quality, competitive pricing and brand reputation, Envicool maintains a significant leading position in the Telecom, ESS, ETC, etc.
Envicool has deep technical precipitation in the field of industrial thermal management. By launching products and solutions to adapt to various industrial scenarios, Envicool meets the customers'demands with high-quality products and efficient services.
What's more, it has complete range of industrial cooling, including EIA Series Enclosure Cooling, EIF Series Fan Filter, EIC Controller, EIT Heater, EIX Series Air/Water Heat Exchanger, EMA Series Industrial Cooling, DC Series Air Conditioner, etc. Compared with traditional cooling, Envicool industrial cooling consumes less power and saves more than 40% of energy.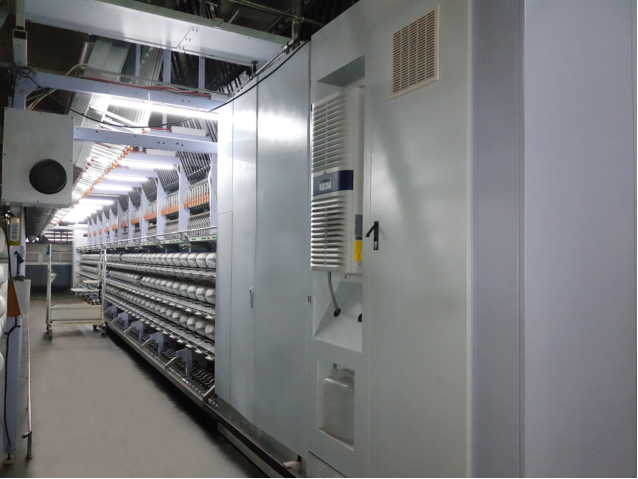 EIA Enclosure Cooling Unit
EIA Series Enclosure Cooling Unit is mainly used for heat dissipation of industrial equipment control cabinets. It completely isolates the inside and outside, and has the characteristics of dust-proof, oil-proof, moisture-proof, etc. The nano-scale coating on the condenser can prevent corrosion and ensure a longer service life. In the high temperature environment of 55 ℃, Envicool EIA Enclosure Cooling Unit can operate stably at the high temp. of 55°C and work uninterruptedly all over the year for more than 10 years with its easy maintenance contributed by filter dirty and blocked alarm.
EIX Series Air/Water Heat Exchanger
EIX Seires Air/Water Heat Exchanger exchanges the heat efficiently and cools fast with strong heat dissipation performance under extremely harsh environment in smaller installation space. It can work normally under ultra-high temperature of 70°C, its IP grade goes up to IP55 without afraid of high heat, dust and oil pollution.
EMA Series Industrial Air Conditioner
EMA Series Air Conditioner is tailored for the equipment control cabinet in CNC industry.
It adopts professional condensate treatment design to efficiently solve the problem of condensate discharge. The design of the inner circulation side down air supply is suitable for the cabinet environment, which helps to cool down the space quickly and ensure the normal operation of the electrical equipment in the cabinet. It has complete functions including working after power-on, remote monitoring and it can work in the high temperature of 55°C.
Envicool has been building a professional team in invention, manufacturing and testing and has been continuously launching high-quality products. With modern production lines and professional enthalpy difference lab, we respond to our customers rapidly with ensurance of our product quality to cover the global demand. Under the guidance of core values of "Professional Value and Trust", Envicool will continue to improve product technology, devoting itself to providing customers with better products and solutions, and striving towards a better future!